Our Initiatives
Quality Control (ISO 9001)
We obtained ISO 9001:2015 certification in August 2016.
ISO 9001 is an international standard for quality management system established by the International Organization for Standardization to ensure the steady provision of highly reliable products and services. Organizations are required to establish, document, implement and maintain a quality management system, and to continuously improve its effectiveness.
We comply with applicable laws and regulations in accordance with the quality requirements of customers, and continue to provide highly reliable products that fulfill our product standards and quality criteria.
Date of registration

August 8, 2016
Scope of registration

Development, manufacture and sale of Solvron® (water-soluble yarn) and NITIVY ALF

™

(continuous alumina fiber)
Applicable standards

ISO 9001:2015,JIS Q 9001:2015
Registration number

01 100 1534427
Certification body

TÜV Rheinland Japan Ltd.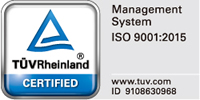 Environmental Considerations
We work to reduce our environmental impact in various ways, such as by reducing carbon dioxide emissions and waste emissions.
We continue to develop our activities while being environmentally friendly, and work to contribute to the development of a sound and fulfilling society.